My "Jaguar X-Type Sport" Story
| | |
| --- | --- |
| Built: | 26th November 2001 at Halewood |
| Model: | X400 |
| Body: | Saloon |
| Version: | Series 22 |
| Engine: | 2.5L AJ25 V6 Petrol |
| Transmission: | Jatco 5 speed Transverse Automatic |
| Drivetrain: | Jaguar Traction (Full-time All-Wheel Drive) |
| Suspension: | Sport |
| Exterior: | Platinum with colour keyed grille surround, boot plinth, spoiler, bumper blades and de-chromed window surrounds |
| Interior: | Warm Charcoal with Cranberry Sports Leather (perforated) Seats (8-way electric adjustable) and Grey Stained Birds Eye Maple Wood Veneers |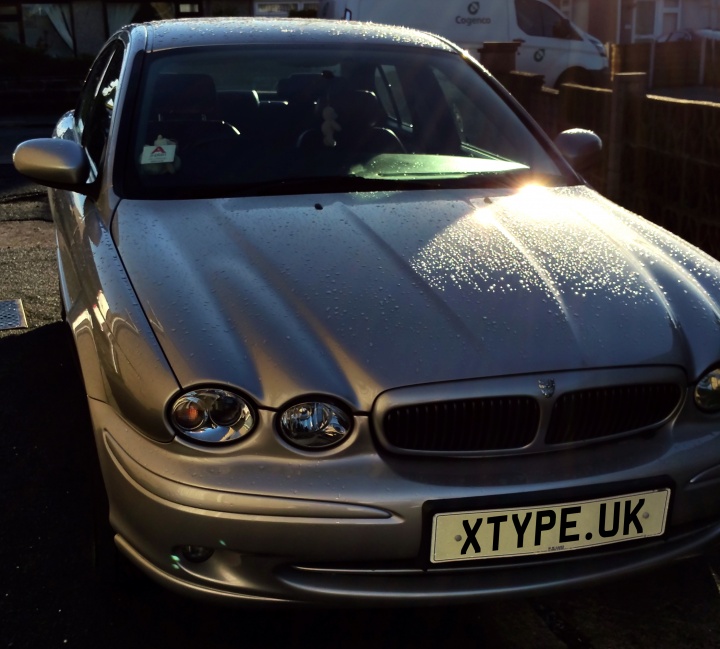 First viewing of the X-Type, January 1st 2017
So it all started on New Years Day 2017. Having never thought about owning a Jaguar X-Type, and driven a 1996 Honda Prelude 2.2 VTEC (Import) for 16 years, this one was up for grabs. Belonging to neighbours of my parents, they were moving and not taking the car with them. I decided to take a look and I liked what I saw. The exterior was in great condition for a, then, 15 year old car but it was the interior that really caught my attention - Cranberry sports leather seats.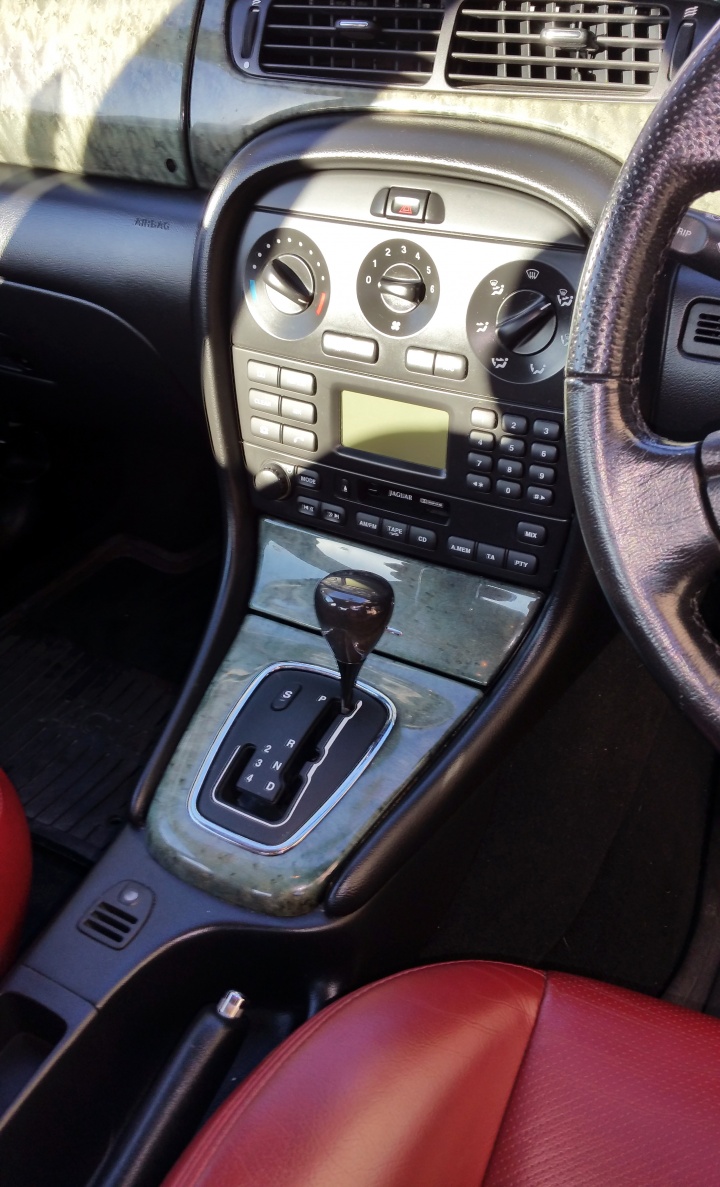 First viewing inside the X. Lovely cranberry leather but that cassette/radio has to go!
Admittedly, not to everyones taste but undeniably very Jaguar. Everything was in amazing condition, with just the usual scuffs on the bolster of the drivers seat. Just one thing! That radio/cassette headunit would have to go! And with that single viewing, without even driving it (I'd never driven an automatic before) the deal was done. Only one down side... I'd have to wait until February to pick it up.
6 weeks of waiting left plenty of time for research. It became very apparent very quickly that it would be benficial to join a Jaguar Forum or two, as these always popped up in search results and were the best resources for the information I needed - namely "how to get rid of that awful radio/cassette unit".
In my search for information I came across references to the Jaguar touchscreen, with people talking about how to retrofit this to the X-Type. I thought this was a good plan and it appeared to be quite straight forward. Second-hand units were in plentiful supply on Ebay and not expensive. More research however highlighted a potential problem - you had to have climate control in order to fit the touchscreen. My soon-to-be new X-Type only had manual aircon. So how do I upgrade to climate control? Is it possible? "Not possible", "Not cost effective" were the initial findings but a bit more digging and it became clear it was actually quite straight forward and not expensive. A handful of new parts needed (a fan module, control panel and a couple of temperature sensors) and some wiring changes. So the touchscreen was achievable.
With a few more weeks to go before I picked up the X I started acquiring the parts needed to rid myself of the dreaded radio/cassette. By the time I picked up the car on 12th February 2017, I had almost everything I needed to start the conversion work. First though, I had to get to grips with my first automatic!
The habits of 30 years of manual driving proved tricky to switch off. My left leg kept insisting on applying the clutch, the one that was no longer there. Unfortunately it decided to make a beeline for the brake instead. My left hand was also quite eager to reach for the gear stick. It probably took a day or two before everything clicked into place good and proper. After less than a week of driving the X-Type I took my old Honda Prelude for a drive and on coming up to some red traffic lights I managed to stall. I'd forgotten to put in the clutch when I stopped! Doh! So I guess that was my conversion to automatic driving completed.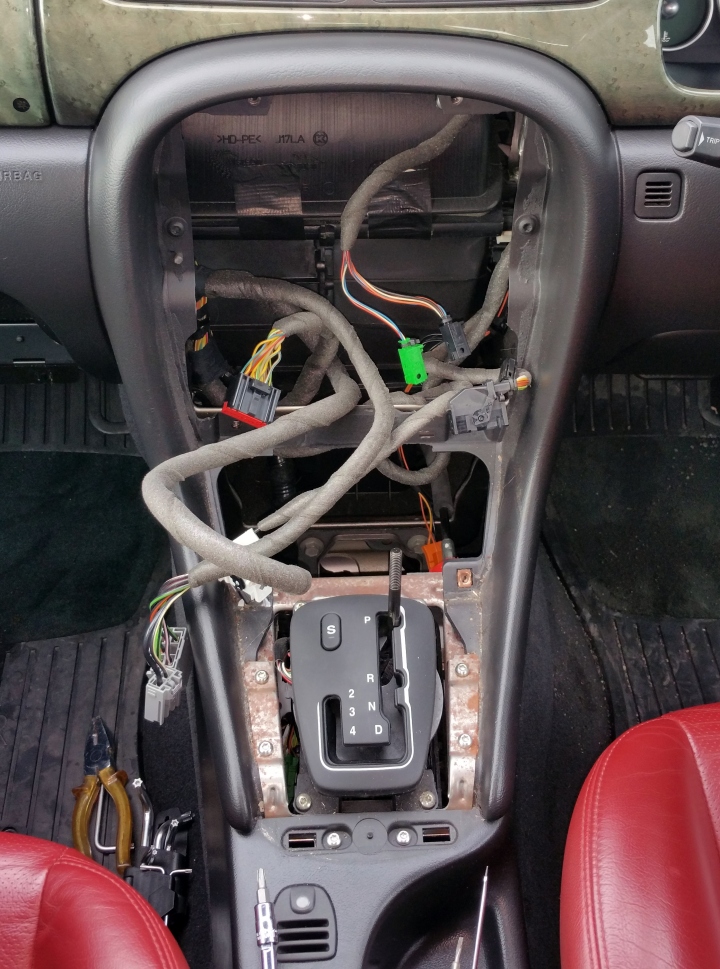 The centre console components stripped out, let the fun begin!
By mid-March I had everything I needed to eradicate the cassette/radio from my X, so with a totally free weekend I made a start by upgrading the manual aircon to climate control. There was no turning back now.
The actual process of converting manual ac to climate control is quite straight forward. Replace the fan module, change a few wires here and there, move a few wires around inside various plugs, add in the external ambient temp sensor and the internal cabin sensor and you're pretty much good to go and plug in the new digital climate control panel. Maybe 90 minutes work?
It takes a bit longer to physically fit the cabin temperature sensor (very fiddly) and the external sensor and route the new cabling. I left that for a little bit longer. Now I had the climate control working I was able to press on with the bigger goal of fitting the touchscreen.
I thought I'd need the entire weekend but by the Saturday afternoon I was well on the way to having the touchscreen and navigation system installed. I was using a custom-made loom, provided by Steve from Stoke-on-Trent. This made it very easy - practically plug n play. Run the new cable loom from the boot, through the cable runs and through to the dash. Plug everything in, reconnect the battery and voila! It works! That's what was supposed to happen. And that IS exactly what happened. Something that many people said was too difficult to do, had been done in just a few hours.
All that was left to do now was tidy everything up, screw everything into place and go for a drive.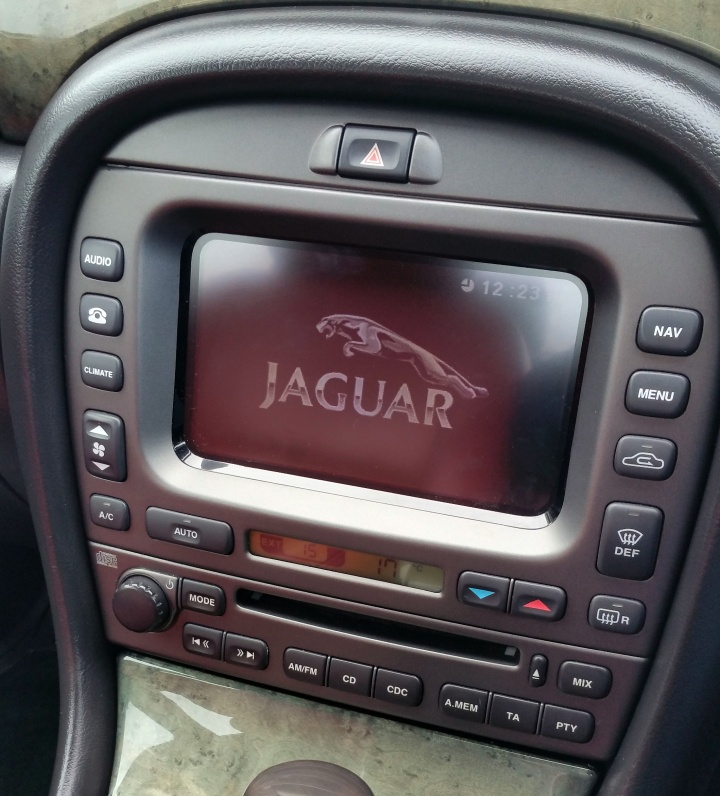 AC upgraded to Climate Control, and touchscreen and navigation system installed.
What other upgrades could I treat the X to? What 'optional extras' had the original owner been too mean to add way back in December 2001? Rear electric windows? Steering wheel audio controls? Jaguar Voice control? Powerfold wing mirrors? Phone/Bluetooth? Message Centre instrument panel? Sliding Arm rest? I think that's a yes to all of them.
The 'Projects' section of my website will detail some of the upgrades. If you want to try any of them, please be aware that you do so at your own risk. This is not a support site. I will not be able to offer any support for your project. The key is to take time to research what you want to do based on the model year of your X-Type.
Produced from 2001 through to 2009, the X-Type went through a couple of facelifts, at which point changes were introduced. Some of these changes were cosmetic, others resulted in different wiring schematics, pin-outs of cable looms, and fuse boxes. There are also differences between Petrol and Diesel variants. Many of the systems, particularly the telematics (navigation, audio, phone, voice) are also shared with the S-Type and the XJ X350/358. All three models utilise their own touchscreen due to different fascias and dual-zone climate control, for example, but the fundamental underlying systems are the same. However, always remember that this site refers to the X-Type.
Anwyay, 2017 continued to be a year of learning about the electrical systems in the X-Type and working through the wishlist. First on the list was to get the handy steering wheel controls for the audio system. As was often the case with the original steering wheel, the airbag cover was curling up at the ends, so a facelift sports leather steering wheel was located with the audio controls fitted. The phone module with bluetooth support was also installed in April 2017 and was quickly followed by the Jaguar Voice control system. May 2017 saw the inclusion of the Audio Connectivity Module or ACM for short. This further expanded the audio capabilities to allow playback from a USB memory stick, iPhone and even a standard analog input. In June 2017 it was time to fit the Message Centre instrument panel, and get an insight into fuel economy. And what Jaguar would be complete without a sliding arm rest? So the centre console was replaced with a facelift version along with facelift door cards including the front door tweeters and preparing for the installation of the rear electric windows in July. July was a busy month as that also saw the fitment of the powerfold wing mirrors and the very useful fold on double-lock feature.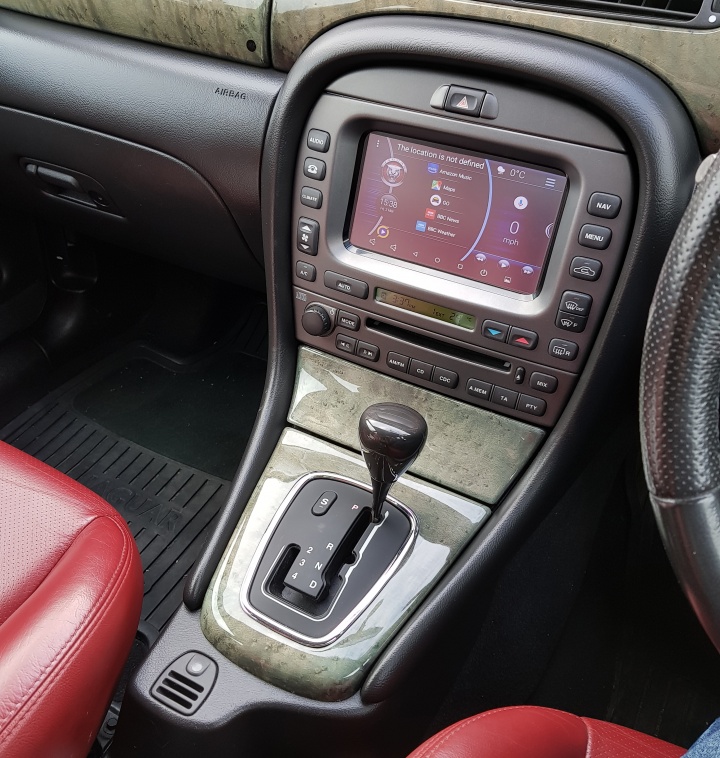 2018, and the 'JagDroid' has replaced the standard Jaguar touchscreen.
2018 saw the arrival of probably the single most impressive upgrade you can possibly give to your X-Type (or indeed S-Type or XJ X350/358) - the JagDroid Android touchscreen. Courtesy of Ben Willcox, this upgrade maintains the original Jaguar functionality (phone, climate control, voice, audio system, etc) whilst introducing all the functionality of the Android operating system. The apps from the Google Play Store, including Google Maps, TomTom, News and Weather. Bluetooth audio streaming from Android and iOS phones and tablets. Full Google voice control for true handsfree operation. Spotify and Amazon Music streaming. Reverse and Front Cameras. Pretty much everything that you'd expect from a modern car.
Whilst 2017 was the year of upgrades, 2018 was the year of getting out and about. The first Jaguar Breakfast Club meet at Jaguar Land Rover Classic Works, Coventry in June 2018, followed by a spot of Sunday lunch in August at The Harp Inn, Old Radnor, Powys with the boys from JaguarForum.com. Next was a trip back to Coventry and the JLR Classic Works for the Jaguar XJ 50th Anniversary celebrations in September 2018 to wrap up the outings for the year.
March 2019 was the first trip to the Jaguar Breakfast Club's regular home, the British Motor Museum at Gaydon, Warwickshire. Another chance to meet up with friends from JaguarForum.com. Also a chance to take in the impressive collection of vehicles both in the main halls of the motor museum and the Jaguar Heritage Collection. And with a small fault on my JagDroid, a convenient way to meet up with Ben, remove the unit in the car park and for him to take it away and fix. 3 days later, the JagDroid was back with me and back where it belongs.
Next stop... the Elite Sports & Performance Car Clubs "Cumbria 8th International Motor Show 2019" in May.